Stock Rods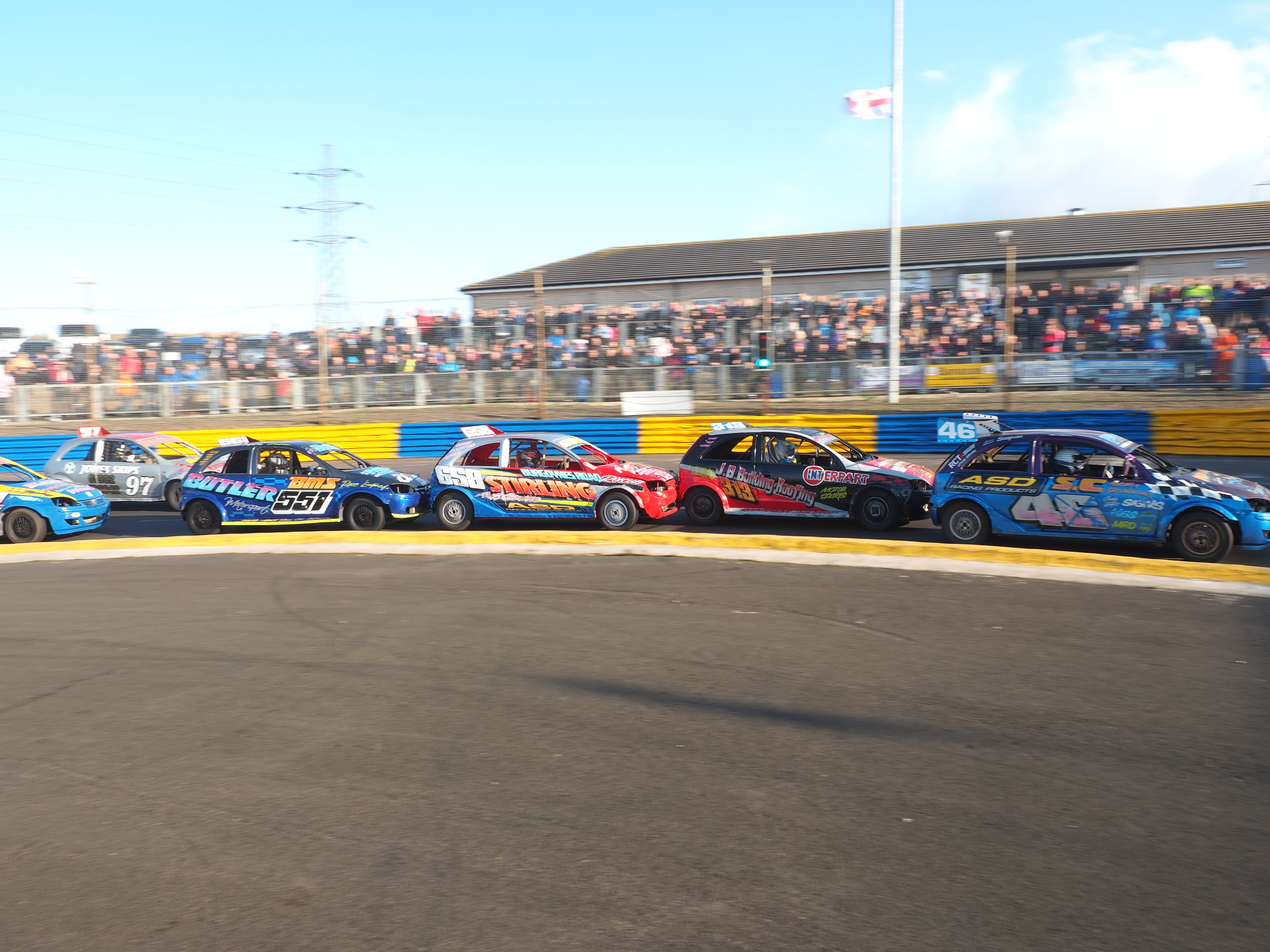 Stock Rods are a non-contact high speed formula made up primarily of Novas, Saxos and Corsa.
Cars can have up to a 1600cc 16v engine. Stock Rods provide some close and fast racing and are always a joy to watch.
With healthy numbers of cars on track, it can be extremely difficult to overtake without contact, leading to some daring high risk moves in order to gain positions.
Additional Comments and Rules
As discussed at the 2023 drivers meeting for the formula, the following will be implemented for the 2023 race season.
- The Scottish Championship will be contested from an out of the hat draw and the grid will be determined by two reverse grid qualifying heats. The top point scorer from the heats will be at the front of the grid for the Scottish Championship race. In order to be eligible for being gridded, drivers must have participated in at least 50% of the race meetings in the season to date OR in the three prior meetings. Any driver having done less than this amount, but have raced previously in the season, may participate, but will be required to start from the back for ALL qualifying races on the night. Any driver that has not raced, may be permitted to race on a full licence, from the rear of the grid in all races, at the promotors discretion.
- Drivers must book in with HRP by 12pm the day before a race event in order to be gridded.
Any driver not booked in by this time will be required to start ALL races at the rear of the grid.
- All races will be clutch starts unless extreme wet conditions, or championship events. For domestic events, the grids will be pre-determined randomly before the meeting. It is drivers responsibility to ensure they are in the correct grid position. Grid positions will be closed if a driver does not turn up. In extreme wet conditions, rolling starts may be used.
National Points run from World Final to World Final, and from 2021-22, the cut off being 1 month before the actual World Final date. This is to give drivers time to prepare for the World Final, and know who the qualifying drivers will be. All domestic events, roof grade championships and the Midland Championship count towards National Points. The Easter weekend at Hednesford and DMC will also count towards national points.
For the 2023-24 season, a drivers average points will be used to determine their race grade, once two meetings have been completed. Drivers that have competed in less than 2 meetings in the current campaign, graders discretion will be used.
Relevant Downloads
- 2023 Stock Rod Rules 26-03-23 - Updated 16th Mar 2023
- Stock Rod Grades - Nov 2023 - Updated 24th Oct 2023
- Stock Rod Track Championship 2023 - Updated 24th Oct 2023
- Stock Rods National Points 23-24 - Updated 24th Oct 2023

Other Useful Links
- 2024 Drivers List
- Roll of Honour
Current Lap Record, 13.847
, set on 26th June 2011, By Car #67 .